NewSpaceVision
NewSpaceVision's goal is to grow the European (New)Space startup scene and build awareness for the unique applications of space-related hard and software. NSV acts as the starting point for aspiring entrepreneurs and skillful engineers from all kinds of fields to find contact points to existing companies or find colleagues, inspirations and resources to start their own venture. linkedin.com/company/newspacevision twitter.com/NewSpaceVision instagram.com/newspacevision facebook.com/newspacevision www.youtube.com/channel/UCNPQTpwfZZlc2aO4SuXjoUQ
#20: The Meetup Episode – Insights on Funding NewSpace Startups (feat. Tom Segert, Andreas Kupke, and Lukas Leitner)
Our hosts Daniel and Sven, co-founders and CEOs of LiveEO, host a live NewSpaceVision special from our October 2022 meetup, recorded at LiveEO's brand new office.
How do investors think – what do they look for when funding a company? Should one even seek investment or is it actually better to bootstrap a business? We deep dive into these questions with newspace veteran Tom Segert, founder and CEO of Berlin Space Technologies; Andreas Kupke, tech entrepreneur & investor; and Lukas Leitner, analyst and venture capitalist at Lakestar.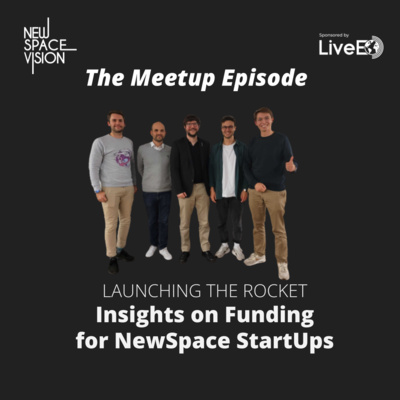 Stay up to date about the latest developments in European NewSpace. Register for our newsletter!